SERVICES
CUSTOM ENGINEERED PASSIVE AND ACTIVE LOUDSPEAKER CROSSOVER NETWORKS
CROSSOVER NETWORK REBUILDS AND MODS INCLUDING DUPLICATION OF VINTAGE OR NLA DESIGNS
ACTIVE FILTER DESIGN AND PROTOTYPING
PC BOARD DESIGN AND PROTOTYPING
EXPERT VINTAGE McINTOSH AMPLIFIER RESTORATION AND MODIFICATION

Contact North Reading Engineering

WELCOME TO NORTH READING ENGINEERING
North Reading Engineering is a Massachusetts certified business founded to provide engineering services to those engaged in home and professional audio providing loudspeaker crossover network solutions, loudspeaker design, vintage amplifier restorations, amplifier modifications and measurement services.
SALLEN-KEY, 2-CH, BAND-PASS FILTER MODULE
For amplifier builders, the Sallen-Key module provides two, 4th order, band-pass small signals to amplifier inputs. Designed to accept a wide range of capacitor values to implement band-pass filtering for woofer, midrange and tweeter applications. On-board +/-15VDC regulated on-board supply, Sallen-Key filter topology USA made, through-hole PC boards with clear, bright silk screened component IDs are also available to allow amp builders to evaluate and modify the design to suit specific filter requirements. For more information including performance data and ways to use this module is found HERE.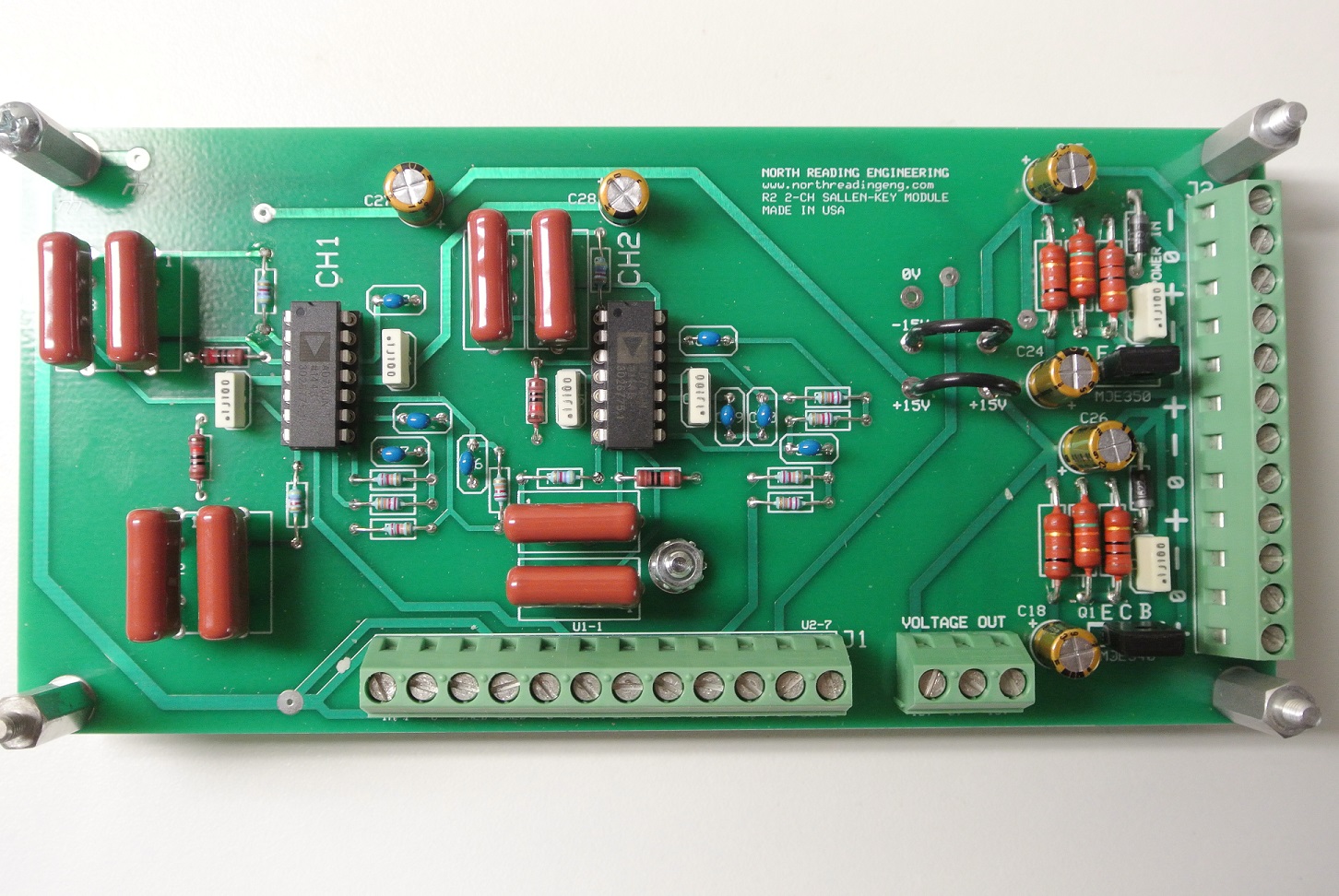 BALANCED 2-CHANNEL, BUFFER / 3-WAY ACTIVE SPLITTER AMPLIFIER FRONT END MODULE
EMI/RFI hardened amplifier front-end, XLR/TRS combination inputs, +/-15VDC regulated on-board supply, ultra-low distortion, super quiet buffer/splitter accepts inputs from any small signal source and splits them into three independent signals, each capable of driving (for example) an amplifier in a bi- or tri-amplified loudspeaker system. Op-amp sockets enable users to evaluate different packages or replace a blown device. High quality, USA made, through-hole PC boards with clear, bright silk screened component IDs are also available to allow amp builders to evaluate and modify the design to suit specific buffering requirements. For more information including performance data and ways to use this module is found HERE (webpage) and HERE (video).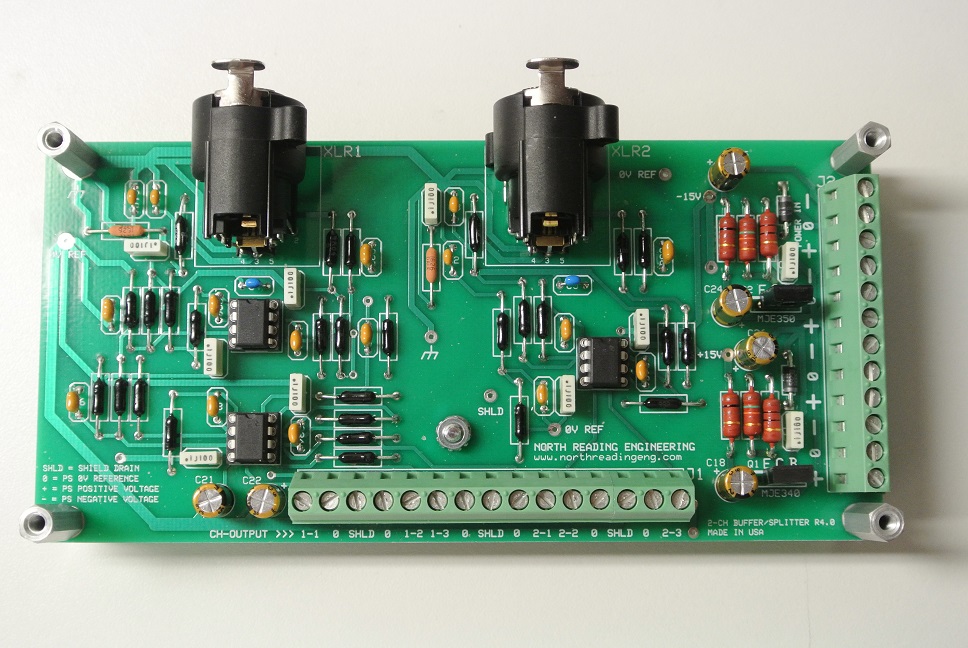 CUSTOM ENGINEERED LOUDSPEAKER CROSSOVER NETWORKS
Networks are designed and their performance verified using a wide range of tools including analog circuit simulators, high sampling rate acoustic analyzers, distortion analyzers and precision measurement microphones. Acoustic measurements are taken in quasi-anechoic conditions using near and far-field techniques. Designs can be implemented using custom wound autotransformers, PC board layouts and active filters.
NETWORK REBUILDS, MODS, MEASUREMENTS
Do you have an old JBL, KLIPSCH, EV or other network that you would like made, updated, duplicated or measured? Pricing is quite competitive and performance data demonstrating network behavior is provided to the customer.


VINTAGE McINTOSH AMPLIFIER REPAIR, RELIABILITY SERVICING, OVERHAULS AND RESTORATIONS
North Reading Engineering has the experience, tools and test instrumentation to properly assess the condition of your vintage, first gen solid state amplifier and make it a whole lot better. More information on amp servicing can be found
HERE.
VINTAGE McINTOSH MC2105, 2100, 2505, 250 and 2300 AMPLIFIER UPGRADES
Yes, the first generation McIntosh solid state amps can be upgraded to make better sound. This isn't a "re-cap" or "update" of the original design. It's a re-engineered preamplifier section, designed as a direct swap for the 043-795 and 044-331 preamplifier boards. The new preamplifier board provides a significant, measureable performance upgrade to these vintage classics. More can be found HERE.
ACTIVE FILTERS
Crown Amplifier Modifications
D45-75A

With this active filter board the Crown D45-75A series of two channel amplifiers is transformed into the ideal, low cost midrange-tweeter amplifier or "bi-amplifier" for two-way systems. More on this very cool modification is HERE
.
Crown XLi800, 1500, 2500 and 3500 Class AB
An active filter insert that converts the Crown XLi Series of low cost, high power Class AB amplifiers into steep slope, very low distortion, actively filtered bass horn amplifiers. Filters specifically designed for the Klipschorn and Jubilee bass units are also available HERE.
Crown XLi Series, Triamped, 2-Channel, Actively Filtered "Stacks"
If you want to go 3-way active using Class AB amplifiers there is now no need to spend a small fortune on amps, networks and cabling. With the active filter inserts shown above a 3-way amplifier stack for the Klipschorn, Jubilee or any 3-way audio system can be had for reasonable cost. North Reading Engineering can design and install active, steep slope filters in an XLi stack to accommodate either a 2 or 3-way system. Amps run cooler, no passive network losses and an independent volume control for each driver.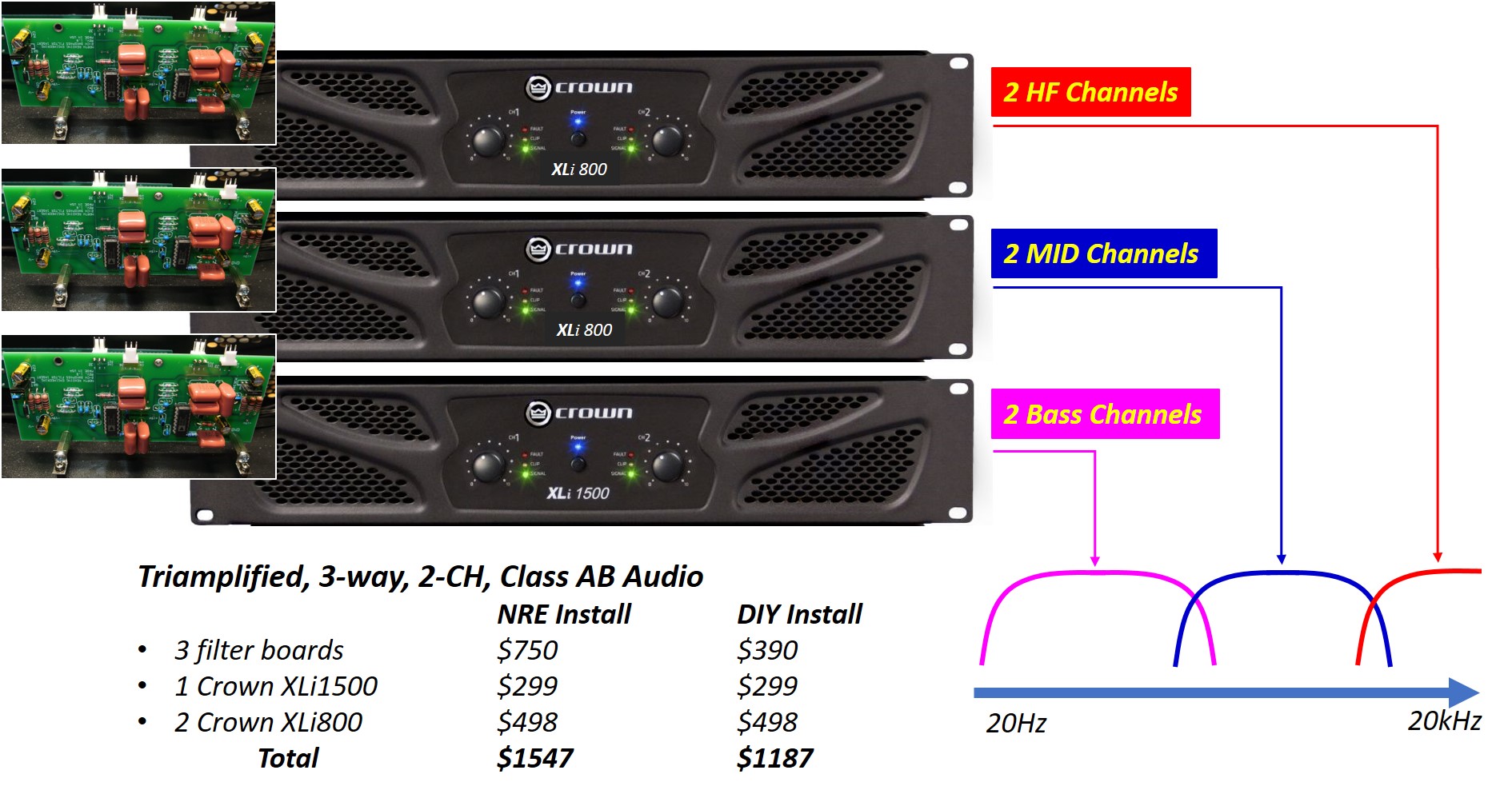 NORTH READING ENGINEERING PAGES
MODELING THE KLIPSCHORN BASS HORN (Part I)
- The Beranek Model, LTSPICE and a slew of measurements.
MODELING THE KLIPSCHORN BASS HORN (Part II) - Extending the model to simulate factory filter responses.
PHOTOGALLERY OF A KLIPSCHORN REPLICA BUILD - Building a Klipschorn is not for the faint of heart!
A KLIPSCHORN NETWORK FOR BUILDERS - A measured design you can build yourself.
UNDERSTANDING IMPEDANCE - Resistance, Reactance, Nyquist and Excel all in one place.
THE AUDIO ENGINEERING FORUM - A work in progress!



NORTH READING ENGINEERING VIDEOS


BALANCED 2-CHANNEL BUFFER / 3-WAY ACTIVE SPLITTER (R4.0) - Module overview and selected analyzer results.


PLACES TO VISIT
VOLTI AUDIO
RETRO VINTAGE MODERN HIFI
KROHN-HITE
NORTH READING ENGINEERING FACEBOOK PAGE

Website and contents property of NORTH READING ENGINEERING, North Reading, MA 01864 USA. No part of the above may be copied and published, in part or in total, without permission.

©
2019 John Warren